About Saving Hemlocks
Saving Hemlocks originated in 2006 to promote biological control of HWA by private groups and landowners. Here is our story:
I retired from research and teaching (Professor Emeritus, University of Georgia) in order to live on and enjoy the natural wonders of our watershed property in the Western North Carolina mountains. Although I had research experience in human health interventions, I had no intention of getting involved in an environmental intervention program for hemlocks! But in 2003 I began to recognize the presence and impact of HWA on our hemlocks. And after a limited (and very expensive) chemical intervention on a handful of trees in 2004, I began looking carefully at the research literature on hemlock woolly adelgid control, searching for a way to implement biological control of HWA for the entire 150 acre property. Here is a review of some important research on biological control of HWA.
By 2006, when I found a source for the native predator beetle Sasajiscymnus tsugae (aka Sasi or St) for our HWA "import" from Japan, most hemlocks on the property were 70-90% defoliated. Drawing on field and laboratory research reports from CAES researchers in CT, I began experimenting with low-density beetle release strategies that would be applicable to private releases. (USDA/USFS have released ~5 million Sasi beetles on federal and state lands, but that scale is not viable for private landowners.)
By the end of 2009, most of the hemlocks on my and adjoining properties were producing new foliage, although a subsequent hemlock borer outbreak had a devastating impact on the larger (>20″ DBH) hemlocks on this watershed property. But now in 2016, hemlocks co-exist peacefully with the reduced HWA levels maintained by Sasi predation, with continuing hemlock foliage growth and recovery from the initial HWA damage. Here is some good news about the effectiveness of Sasajiscymnus tsugae as an HWA predator plus some important scientific research that has transformed our understanding of HWA around the world.
Over the last  decade I have followed the growing HWA research literature and used this scientific knowledge to encourage a wide range of private, community and environmental groups in Western North Carolina to purchase and release HWA predator beetles. See more about the choice between biological and chemical HWA control strategies for private landowners. This website is intended to expand the scope of this outreach effort to all who have experienced or will experience the "HWA onslaught".  I have been personally involved in the release of over 100,000 Sasi predator beetles in the Southeast, and I am hopeful that I have encouraged a comparable number of independent releases by DIY private and public landowners. See more about community-based interventions to control HWA.
But my proudest environmental investment has been my "Johnny Beetleseed" campaign here in the Southern Appalachians, in which I drive down mountain roads in search of hemlocks that need help, and then release 25-50 beetles at each (nonresidential) site. I have completed 10 years of such releases, covering hundreds of miles of roadways (in NC, SC, TN, KY and GA), as well as the last 60 miles of the Blue Ridge Parkway (from Mt Pisgah to Cherokee, NC). And as a result, I now have the joy of seeing hemlock restoration underway – everywhere that I drive, including the example below from a 2007 release, just up the road from my property on NC 281 in Sapphire, NC.  See more about hemlock restoration.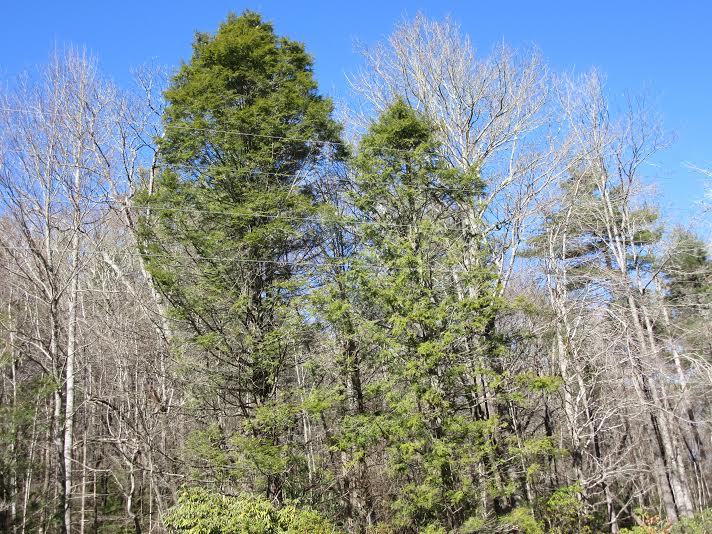 Another invasive adelgid, the Balsam Woolly Adelgid from Europe, has devastated high altitude Fraser fir populations in the Southern Appalachians since the 1950's. So given Sasi's demonstrated success with HWA control and on the basis of Carole Cheah's CAES laboratory research showing that Sasajiscymnus tsugae could also feed and reproduce on the Balsam Woolly Adelgid, I have recently expanded my "Johnny Beetleseed" campaign to include Sasi releases on Fraser Fir populations. See more about the different HWA predators that have been USDA-approved for release in the Eastern US.
So enjoy the materials presented here, and recognize that you can intervene to help restore our native hemlocks in the Eastern US – whether on your own property or in wild hemlock areas.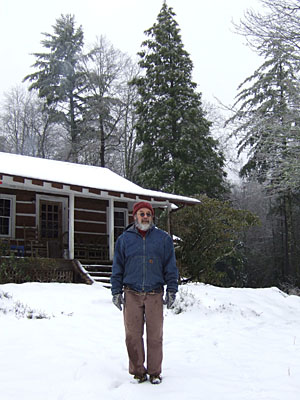 Patrick Horan in front of his cabin
and a recovering hemlock in Sapphire, NC