Stages in HWA Infestation
Early adelgid infestations often begin as a sprinkle of white "wool" but soon expand to an onslaught, where adelgids are feeding on nearly every needle [Early]. The feeding damages the needles, producing a grayish cast and blocking the production of new foliage [Late]. And without sufficient foliage, the hemlock is unable to take-up water or produce food, and eventually dies [Too late].
Stages in (Beetle-assisted) Hemlock Recovery
Sasi beetle predation reduces adelgid numbers, allowing the hemlock to begin producing new growth, often in tufts [Early]. Where sufficient adelgid ovisacs (food/wool) are present, the beetles will respond by laying eggs. And when these eggs hatch, adelgid predation by the beetle larvae will promote more extensive foliage production, often at the crowns of larger trees [Middle]. This process continues over subsequent breeding cycles, often top-to-bottom, until the hemlock can renew normal foliage production [Advanced].
Stages in Sasi Beetle Lifecycle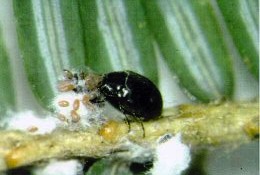 Feeding Adult Sasi Beetle
Both adult beetles and larvae are voracious predators of adelgid eggs, nymphs and adults. Beetles lay eggs in response to HWA ovisac density. But they will also feed and reproduce on the pine bark adelgid that is present on white pines. So in mixed white pine/hemlock areas, Sasi reproduction may be extended through August or September!